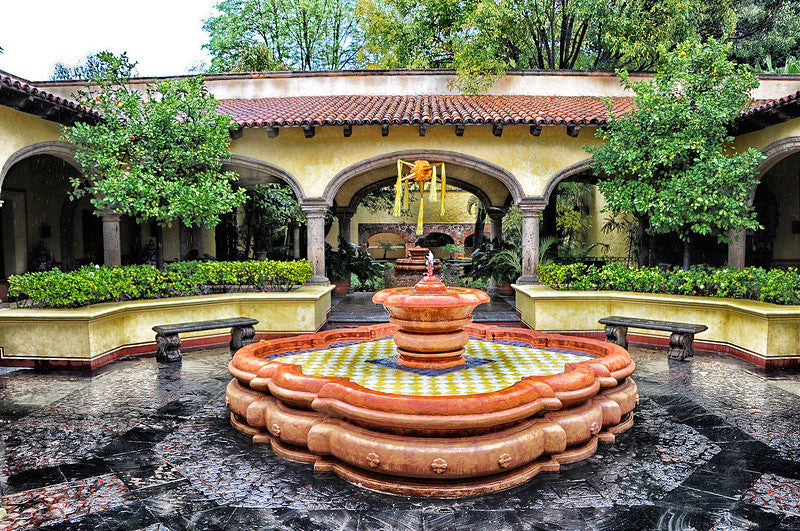 May 05, 2016
Our love affair with hacienda living dates back to 1521, when the first Spanish visitors marvelled at the stunning architecture of Tenochtitlán, which we know today as Mexico City. What made such an impression on them?
Mayan, Aztec and Olmec traditions had an artful blend of masculine and feminine – massive stone and wood artefacts alongside glowing textiles that added softness, substantial ironwork lanterns and huge clay vessels decorated with latticework patterns and serpentine designs to feminise their form
Outdoor-indoor living – the lifestyle that brought the outdoors in and the indoors out fit perfectly with the European aesthetic of colonnades and public spaces
Masterly craft skills allied to humble everyday household items – beautifully painted platters, incised pots and jugs and hand-made tiles decorated even the poorest homes.
'Casa Decor' or 'Hacienda Styling' has also been strongly influenced by the stunning wall decor of the region, in particular the work of muralist Diego Rivera. But even more than Diego, we recognise and celebrate the contribution of his wife, Frida Kahlo whose personal style, art and interior design have recently experienced a much deserved resurgence.
Spanish settlers adopted the hacienda and made it their own. Today we still value and enjoy these unique contributions to the good life, especially in modern apartments that can otherwise seem a little bland.
How can home decorators get the Casa Mexicana look?
At Carafina we believe in starting with the backdrop. Warm white wall colors, with a hint of peach, apricot or rose, deliver the impression of sun-drenched landscapes so necessary for this style.
Finding the right blend of masculine and feminine comes next – just like Diego and Frida, we need a good balance to create a great ambience! If you're opting for a huge mirror to bring more light into your room, make it truly monumental and then soften its macho effect with some wrought iron lanterns either side – if possible with Frida's beloved songbirds as a decorative feature.
Now you can let your imagination run riot. Bright, highly textured throw cushions can make the corner of your room into a vibrant statement of color and form. Choose a combined coffee table and storage trunk to give that hacienda feel, and top it with an array of incised vases or a varied display of candles in rustic candlesticks for that warm summer evening vibe that creates a relaxing and romantic atmosphere, even when the weather outside isn't cooperating.
For a bedroom with the delicious Casa appeal, combine big old beds with soft white sheets and richly dyed comforters, keep lighting low, using vivid glass candle holders to create pools of mysterious color. Thick floor rugs will bring some luxury at ground level.
Sound appealing? We think this home decor style can be made to work for any size of home and unlike some furniture stores, our in-house experts love to talk about your ideas, rather than trying to sell you ours! Why not get in touch to see how we can help you create your own hacienda?
Cover image credits: Photo credit: aagay via Foter.com / CC BY-SA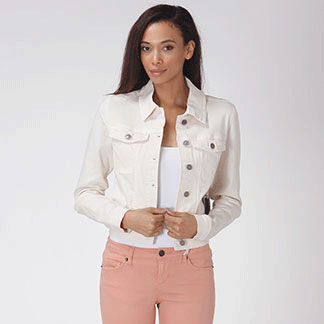 May 04, 2016
Denim might be the standard uniform of youth around the world today, but did you know that this wonder fabric has its origins in Italy, and shot to fame in America during the cowboy era of the "Wild West?" Read ahead to learn all about the history of your humble blue jeans.  And, today's continued obsession with Denim in America.
Denim's origins in Genoa
The word denim first emerges in 1795 in Italy. A Swiss entrepreneur named Jean-Gabriel Eynard and his brother Jacques relocated in Genoa and started a large garment factory. In 1800 they received a massive commission from the Italian army – Jean-Gabriel debuted a study new fabric that he titled "bleu de Genes," named for the French word for Genoa. This is where we get the common term 'blue jeans' to this day.
A Bavarian- American Connection
In 1853, a Bavarian entrepreneur named Levi Strauss made the long journey to San Francisco – but not to work as a gold panner! He operated a dry goods shop and was inspired to create clothing solutions for the miners of the American gold rush. This taxing physical job saw miners going through trousers, shirts and jackets at breakneck speed – no matter how thick, the typical cloth fabrics could not stand up to the demands of the men.
Strauss was inspired by a letter from a Reno tailor named Jacob Davis. Davis detailed how he used strong metal rivets at stress points in order to reinforce the cloth and make trousers last longer. The two men agreed to work together, and in 1873 the Jacob Davis and Levi Strauss & Company enterprise was born. Their reinforced denim "waist overalls" were instantly popular, and were soon regularly seen on working class men, farmers and others with demanding professions.
The trousers fit loosely, more like overalls without the bib, and had two pockets in the front and one on the back. Over time, they were redesigned to have a standard zipper in the front (rather than the side) and five pockets secured with copper rivets (including a watch pocket).
Jeans come into fashion
"Waist overalls" were a key part of the serviceman's uniform during World War Two, and soldiers liked to wear these trousers even when off duty. For many people around the world, this was their first introduction to denim.
At this point, they were still most likely to be seen on farmers, mechanics, workers and soldiers, but by the 1950s the style was popular with bikers and young men, emerging as one of the most recognised fashion trends of the '50s. This is most clearly demonstrated in the success of films such as "Rebel Without A Cause" and "The Wild One."
Throughout the '60s and '70s jeans became the unofficial uniform of the 'counter culture' and became popular amongst men, women and children all around the planet.
Present Day – Jeans are a Global Fashion
In the 2010s, it is clear that jeans have staying power. They come in countless styles, colours, shapes and patterns and are worn by people young and old. Denim has come a long way from its origins in Genoa – and is sure to continue to evolve.  Denim Jeans come in a variety of styles; distressed, flare, skinny jeans, culottes and cut-outs and different washes and hues.  Today, denim jackets worn by both sexes can be seen over a formal dress or a pair of slacks.   Denim is sexy, trendy and cool and continues to be "go-to" piece for every generation.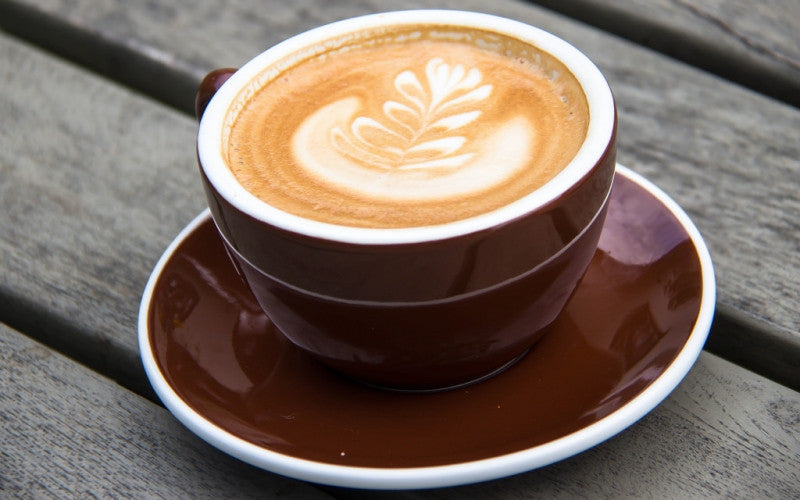 April 19, 2016 1 Comment
In many cultures, coffee is a cause to meet, share and be inspired.  While Carafina Home Decor brings you many coffee tables to sit around and share your favorite cup of Java or Espresso in your home, here is a list of the top ten coffee shops that our team loves to spend time in.  Why you say? Everyone shared a different "awesome" customer service experience or a "you just gotta try this" recommendation.  We have concentrated on two areas in Southern California: Eagle Rock and Highland Park.  Many of us grew up there or are raising our children here and Pasadena is where our company is based.  We've spent many a meeting to develop and build our company.  Now it's your turn to try these special places and work on your next big idea.  Happy savoring! 
Click Shop Name to Learn More
| | | |
| --- | --- | --- |
| Shop Name | Our favorite Signature Drink | Location |
| | Iced Orchata Espresso | York, Highland Park |
| | Coffee and breakfast | Colorado, Pasadena |
| | Any tea (green rocks) | Lake, Pasadena |
| | The latest brew | Colorado, Pasadena |
| | Anything. best drive thru service. | Lake, Pasadena |
| | Mexican hot chocolate | El Molino, Pasadena |
| | Vanilla latte | Arroyo, Pasadena |
| | Cupping events & Music | Raymond, Pasadena |
| | Truckdriver blend | Eagle Rock |
| | Mountain Gorilla coffee, food | Colorado, Pasadena |
10. Cafe de Leche
(York Blvd. in Highland Park)
Located on the corner of York and Ave. 50, with a perfect view of the new local park, Cafe de Leche opened on York during the housing revival for this artsy enclave.  Best known for Craftsmen homes, trendy shops, galleries, bars and restaurants.  music and artists, Highland Park and especially York Blvd. have many bespoke art and gathering locales. Boasting delicious blends and pastries, Cafe de Leche features iconic Latin drinks like Iced Orchata Espresso.  Come for the coffee and stay to people watch.  Known as a drop in for local artists and musicians.
 image: ladyducayne.wordpress
9. Coffee Table
(Colorado Blvd. in Eagle Rock)
Take one look at this place and you will have many reasons to continue to feast your eyes.  The walls, tables and every nook is adorned with art by local artists.  Known for delicious breakfast and lunch combos, their low key dining is welcome to all (they do shut off wi-fi so you can actually talk to your friends once in a while).  A huge menu hangs overhead and don't be shy...ask the staff what they recommend if you are up for delighting your taste buds with a new dish.  My favorites are the Super Breakfast Burrito or Eggs from Hell.  Come hungry and don't forget the kids.  This bistro is for everyone and during the summer months they utilize an outdoor patio so the kids can stretch out after a meal.  Did we mention the coffee is yummy?   
image: Zellina M Foursquare
8. Peets Coffee
(Lake Ave. in Pasadena)
Started in the '60's, Peet's brings you coffee blends and teas.  This location on Lake is a perfect stop in between shopping at the nearby Shops on Lake.  Replete with delicious blends of teas (our favorite is anything starting with "green") you can get a cooler variety now with the summer heat coming on.  And you can stop by Noah's Bagels next door. A nice little patio area remains a gathering spot for locales and tourists alike.  Parking in the rear.
image: Peet's Coffee
(Colorado Blvd. in Old Town Pasadena)
Known for coffee-snobbery, but why shouldn't you boast when you got a good thing.  They offer a coffee bar experience in a gorgeous brick structure near the equally gorgeous shops on Old Town Pasadena.  Intelligentsia opens up their "kitchen" for roasters so that you can try what will be the next up-and-coming coffee experience.  Don't know what to try?  Just ask their baristas.  They are certified and highly trained in their field.
image: Intelligentsia, Pasadena
(Lake Ave. in Pasadena - North of Colorado)
We chose this Starbucks (there are about a half dozen near us) because it has the best drive-thru crew and customer service.  You've been here before, you've experienced an actual conversation with lots of smiles and may have even being greeted by your first name.  They do all the same great drinks that you can get at any Starbucks but the hiring manager and trainers for this location should be applauded. 
 image: Victor Caballero
5. Zona Rosa
(Madison Ave. in Pasadena in the Playhouse District)
Certified organic and fairly traded coffee roasters, this bright spot (literally, bright Mexican decor and a Dia de Los Muertos vibe) is close to the Pasadena Playhouse district.  A small shop but big on flavors.  Try any delicious coffee blend or skip the Starbucks and get one of Zona Rosa's blended cold mochas.  Yummier than any over-priced Frap.  Stick around on Thursdays for music nearby.  Not much seating space except for upstairs but cozy enough to stand and chat or walk the neighborhood.
image: Carafina Home Decor, M. Lavin
(Lake Ave. near the Shops on Lake in Pasadena)
One of the most chill places to relax on Lake.  Near the shopping mall.  They have the friendliest staff who will readily recommend something to cool you or thrill you.  Try the Vanilla Latte with Cinammon on top (better than Starbucks by far).
image: Coffee Bean and Tea
3. Copa Vida
(Green St. in Pasadena)
This is a place you sip and linger.  Lots of seating with a welcoming vibe.  Our favorite is a simple latte with almond milk and any breakfast egg dish.  Try the chorizo egg hash (a sunny side egg delight with a jalapeño relish...delish).  Their coffees are good but kind of small for the price.  Service is excellent.  After a drink take a walk on Colorado Blvd. and check out the shops or stop by Color-Me-Mine across the street and get your creative juices flowing and make the best of that clean caffeine-high.
image: CopaVida
(Eagle Rock Blvd. and Colorado in Eagle Rock)
Located on the corner of Eagle Rock Blvd. and Colorado, this shop opened in 2001 and is geared to everyone: artists, students, parents and kids.  Featuring Intelligentsia coffee and their signature roast, Truck Driver.  A lovely outdoor patio area as well as a place to play and read just for the little ones. Plenty of seating and free wi-fi if you are working on your business plan or the next great novel.
image: Swork
1. Urth Cafe
(East Colorado Blvd. in Pasadena)
Boasting organic and fair trade coffee and tea blends (try the Gorilla Mountain blend and help keep supporting Ugandan family farmers to avoid poaching gorillas).  This site sits on the corner of Colorado and Madison in Pasadena in a gorgeous Spanish style building with a lovely fountain.  With plenty of options to choose from: organic coffee blends, teas, cold blended drinks, fresh pastries, delicious breakfast or lunch combos (try their egg white and spinach breakfast with a side of toast that is TO DIE FOR).  A very lively setting in the heart of Pasadena, this popular location usually has lines out the door but the service is exceptional (they have a second register for take-out in their smaller building).  Our favorite drink...too many to count but whatever you choose, you will not be disappointed.  Don't care for the blend after a few sips?  Take it back and they recommend something else for you.  Their Spanish latte gives Starbucks' latte some serious competition.  Plenty of parking in the metered lot next door or on the streets (be mindful of time limits).
Image. Urth Cafe
 Featured image by Infomastern via Foter.com / CC BY-SA