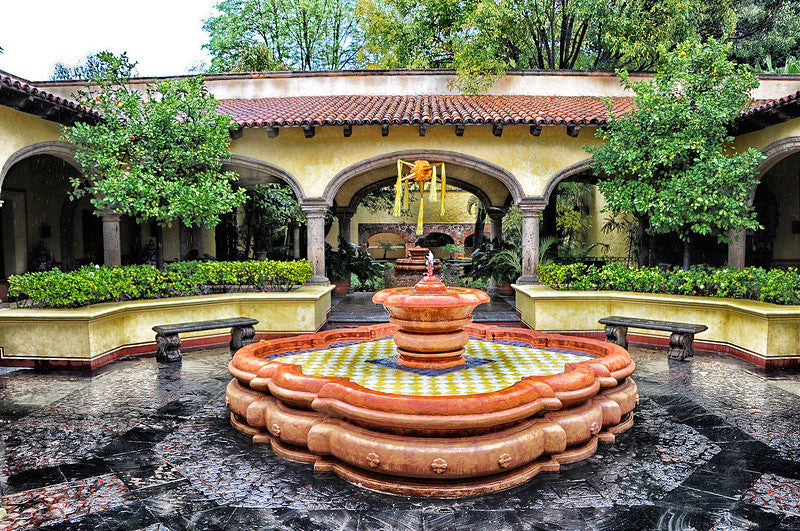 May 05, 2016
Our love affair with hacienda living dates back to 1521, when the first Spanish visitors marvelled at the stunning architecture of Tenochtitlán, which we know today as Mexico City. What made such an impression on them?
Mayan, Aztec and Olmec traditions had an artful blend of masculine and feminine – massive stone and wood artefacts alongside glowing textiles that added softness, substantial ironwork lanterns and huge clay vessels decorated with latticework patterns and serpentine designs to feminise their form
Outdoor-indoor living – the lifestyle that brought the outdoors in and the indoors out fit perfectly with the European aesthetic of colonnades and public spaces
Masterly craft skills allied to humble everyday household items – beautifully painted platters, incised pots and jugs and hand-made tiles decorated even the poorest homes.
'Casa Decor' or 'Hacienda Styling' has also been strongly influenced by the stunning wall decor of the region, in particular the work of muralist Diego Rivera. But even more than Diego, we recognise and celebrate the contribution of his wife, Frida Kahlo whose personal style, art and interior design have recently experienced a much deserved resurgence.
Spanish settlers adopted the hacienda and made it their own. Today we still value and enjoy these unique contributions to the good life, especially in modern apartments that can otherwise seem a little bland.
How can home decorators get the Casa Mexicana look?
At Carafina we believe in starting with the backdrop. Warm white wall colors, with a hint of peach, apricot or rose, deliver the impression of sun-drenched landscapes so necessary for this style.
Finding the right blend of masculine and feminine comes next – just like Diego and Frida, we need a good balance to create a great ambience! If you're opting for a huge mirror to bring more light into your room, make it truly monumental and then soften its macho effect with some wrought iron lanterns either side – if possible with Frida's beloved songbirds as a decorative feature.
Now you can let your imagination run riot. Bright, highly textured throw cushions can make the corner of your room into a vibrant statement of color and form. Choose a combined coffee table and storage trunk to give that hacienda feel, and top it with an array of incised vases or a varied display of candles in rustic candlesticks for that warm summer evening vibe that creates a relaxing and romantic atmosphere, even when the weather outside isn't cooperating.
For a bedroom with the delicious Casa appeal, combine big old beds with soft white sheets and richly dyed comforters, keep lighting low, using vivid glass candle holders to create pools of mysterious color. Thick floor rugs will bring some luxury at ground level.
Sound appealing? We think this home decor style can be made to work for any size of home and unlike some furniture stores, our in-house experts love to talk about your ideas, rather than trying to sell you ours! Why not get in touch to see how we can help you create your own hacienda?
Cover image credits: Photo credit: aagay via Foter.com / CC BY-SA